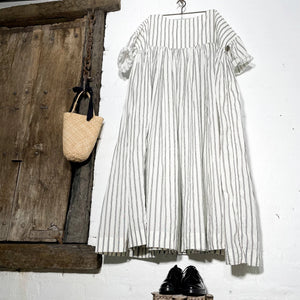 The paper cotton Anouk dress is a full gather of crisp cotton .The fabric at the high waist is finely gathered to create a luxurious fullness throughout the skirt which falls in waves around the wearers curves. Anouk has a magical elegance when worn. This dress is best suited to any body type, every dress will fall differently on each person, however on no body will it be conforming which is apart of the divine beauty of this piece. This dress does not need an occasion, it is the occasion.
We have added 6 inches more to the length, so some of us will need to take the hem up to customise the dress.
This dress is not for the faint of heart, it is flowing and immaculately full but above all else an absolute statement piece all by itself.
MEASUREMENTSÂ (One Size)

Bust: 62 inches 
Bodice:Â 9 inches from shoulder to gather
Length: 53Â inches
Top of Sleeve: 15 inches (please note the top of the sleeve is an off shoulder design that sits approximately 3 inches above the elbow). 
Bottom of Sleeve:Â 12 inches
 
**Complimentary Shipping within New Zealand