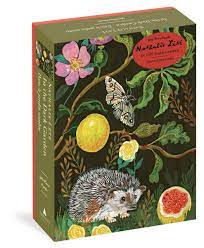 Welcome to Nathalie Lété's Enchanted World...
Walking into the garden at night is like entering a dream.  Moths flit about, night blossoms bloom, and look! - the little Hedgehog freezes perfectly still waiting for you to pass.  
Piece by piece, retrace the magic of Nathalie Lété's imagination and revel in her breathtaking colours and imagery.
Nathalie Lété is a prolific and versatile artist who has held independent exhibitions around the world and has been commissioned to create work for fashion and design houses in Japan and China, ceramic companies in the Netherlands, and furniture brands in England, France, New Zealand and Australia. Nathalie lives and works in Paris.
Artisan puzzles are produced with great intention and quality to create hours of pure pleasure from anticipating the assembly to admiring the completed work.
500 interlocking pieces