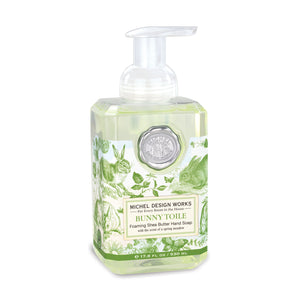 MICHEL DESIGN WORKS MINI FOAMING SOAP

Everyone will delight in Michel Design Works Mini Foaming Soap. This Mini Foaming Soap is the perfect way to try several of our fragrances! The generous size of our Hand Soap proves you can offer great value without sacrificing quality. In addition, it contains luxurious shea butter and aloe vera, for gentle cleansing and moisturizing.  It creates a soft lather that will gently cleanse, nourish and, most importantly, condition your skin. It also makes a great gift, perfect all year round.
Fragrances: Bunny Hollow, Bunny Toile and Lapin
Volume: 4.7 fl. oz. / 140 ml each.
Approximate Size: 2 x 1.75 x 5.38″ / 5.1 x 4.45 x 13.65 cm.
Combine this with other Michel Design Works' coordinated products, such as napkins, candles, or body lotions, to create a one-of-a-kind gift. Made to fit perfectly inside any bathroom or kitchen, these gorgeous Foaming Hand Soaps are ideal for anyone. With an impressive range of colours and designs, we assure you will find a style that suits any occasion or style; be it rustic, sophisticated, or homely. Choose the Foaming Hand Soap that suits you best and add a Hand & Body Lotion with the same beautiful print. Or coordinate with our other homeware and body products accordingly to reflect your personality, mood, and style.