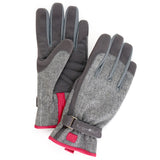 Ultra-soft feel women's gardening glove, in hard-wearing fabric that doesn't stiffen after drying.
 

The two-way stretch mesh between fingers regulates hand temperature and improves dexterity. Wrist strap provides snug fit and stops debris dropping into glove. Padded palm gives extra cushioning. Decorative genuine leather trim.
Machine washable at 30°C for easy care.
This is the small-medium size (6.5 - 7). This glove is part of the 'Love The Glove' award-winning range of ladies' gardening gloves, featuring many stylish designs and on-trend fabrics.