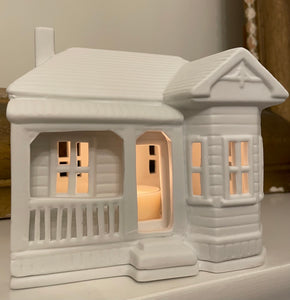 Designed in New Zealand, a tribute to the beautifully ornate villas, built completely with native timber in the late 1800's and early 1900's.
This little house comes to life when placed over a tea light candle.
Made from unglazed porcelain - comes with a candle plate and a lift-off house.
Simply place a tealight candle or battery tealight candle on the base and place the house back on top.
House measures: 140 x 100 x 130mm high to top of chimney.
From the beautiful collection of our best selling homeware by Räder.