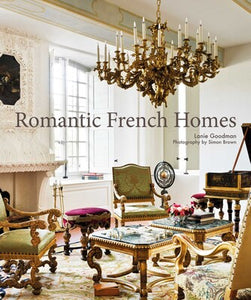 With natural textures, rustic finishes and opulent antiques seeing a renaissance in our homes, this unique collection of enchanting French houses offers timeless inspiration.
From a chic and sophisticated Parisian pied-à -terre to an authentically restored Alpine ski lodge, from a grand château filled with antiques to a beach cottage in St Tropez, 
Romantic French Homes
 presents a stunning selection of homes. These 14 amazing properties sum up all that is French and romantic, from the streets of Paris to Mégève in the French Alps, from the coast of Normandy to the heart of Provence and the sun-baked shores of the Riviera. There are classic country houses, tiny boltholes, city apartments, quirky seaside homes, and more. Each home has its own character, reflecting the people who live there and their passions. The book is divided into four chapters: Châteaux, which covers castles, châteaux, grand country houses, and town houses; Bastides, which features old manors and farmhouses; Maisons Bohemes, which includes bohemian artists', writers' and seaside homes; and Paysannes and Pavilions, which focuses on small and simple town and country houses. With stunning photography capturing the grandeur, charm and mystery of these properties, their romance and sense of history shine through.